Meet the Governors 2023 – 2024
2023 – 2024
Governor Business Interests & Confirmations
Every school and academy has a governing body to represent the public and its stakeholders. At William Gilbert School we are a group comprising representatives from the Trustees of the school, St. Alkmund's Church, parents and staff. We make a number of collective decisions about the school's aims, values and policies and are legally bound to fulfil a range of statutory duties. Our role is to ensure that your children's safety, welfare and learning are at the forefront of all decision making at our school and we have a strategic responsibility for managing the school resources to optimise the standards of education.
The governing body of William Gilbert School is made up of twelve members.
8 foundation governors
2 parent governors
2 staff governors
FOUNDATION GOVERNORS APPOINTED BY THE TRUSTEES
FOUNDATION GOVERNORS NOMINATED BY DUFFIELD PAROCHIAL CHURCH COUNCIL
PARENT GOVERNORS
FOUNDATION GOVERNOR EX OFFICIO
STAFF GOVERNORS
CLERK TO THE GOVERNORS
Mrs K Woods
Chair
Mrs L Sheppard
Vice Chair
Mrs K Rees
Rev J Hughes
Mrs B Marshall
Mrs E Mercer
Mrs K Gallimore

Vacancy
Dr N Ruggins
Mrs H Britten (Headteacher)
Mrs A Aston
Mrs R Manners (Resources & Personnel Committee)
Mrs K Marsh
Vacancy
Our board of governors is divided into sub-committees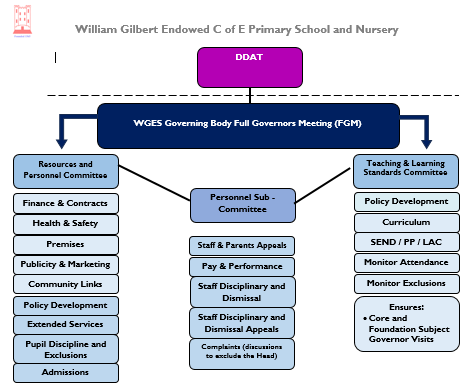 Each governor is linked to an area of the curriculum via the staff subject leader and there is also a governor specifically linked to the teaching of children with special educational needs.
All of our governors have or have had children at this school, and we feel fortunate to have a diverse range of professional backgrounds from which the school can draw. The governors serve for a minimum of 4 years and, indeed, some of us have served for considerably longer.
We meet together officially once every half-term, and the sub-committees also meet at least once every half-term. The minutes of our meetings are public documents and hard copies are always available at the school office.
All governor sub-committee and full governor meeting documentation is also securely stored on Governor Hub along with Governor Health Checks and evaluations.
We are happy to deal with enquiries or concerns from parents in conjunction with the headteacher and within a strict code of confidentiality. This can either be via the clerk to the governors at the school office, via email at emercer@williamgilbertend.derbyshire.sch.uk or, informally, via any of the governors in person – some of whom are regularly at the school gates.
We are not all educational experts, but we do strive to provide an independent view and a common-sense approach. We continually seek to uphold the school's vision and values in which your children can learn and flourish in a safe, happy and Christian environment and where every child is respected as an individual.